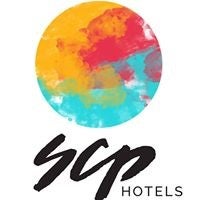 2890 South Circle Drive
Colorado Springs, Colorado 80906
Phone: 719-430-5400
SCP Hotels represents a fresh holistic hospitality concept for both travelers and the surrounding community. Inside each SCP Hotel, guests will find opportunities to recharge their minds, refresh their bodies and re-center their souls, while connecting with fellow travelers and the community. SCP Hotels aims to help make the planet a better place through the extensive use of green materials, eco-friendly products, solar energy, sustainable practices and water conserving fixtures.
Property details:
The 98,000 square-foot property is conveniently located off I-25, minutes from popular travel and tourist destinations, including Broadmoor World Arena, Pikes Peak, Garden of the Gods, the Olympic Training Center and the US Air Force Training Academy.
The 174 guest rooms are meticulously crafted with reclaimed and beetle kill wood, as well as other sustainable elements.
The 5,000-square-foot lobby includes co-working spaces, a 500-square-foot meeting room and free Wi-Fi for guests.
Eight original murals grace the property, along with two living walls – one interior and one exterior. The living walls are planted with native, drought-tolerant succulents – each serving as elegant centerpieces.
The SCP Hotel Colorado Springs is part of the Colorado Proud initiative. Guests will find locally-sourced food, craft beer and gourmet coffee in the 1,000 square-foot SCP Market, which opened in late July 2018.
Happy Hour 7 nights a week 4-6 PM
Live music Thursday/Friday/Saturday
An over-sized fireplace accents the lobby, while table top games and swing chairs are available for the more playful type
Refillable water station
Complimentary parking
Outdoor heated pool and hot tub opening this year, indoor pool opening in 2019
SCP Fitness includes conventional and unconventional fitness equipment and training options
Hostel rooms coming 2019
Co-working memberships and SCP Fit memberships will be available soon.
Introduce yourself to our full site SCPHOTEL.com.