Jun 1, 2016
The IAVM Foundation is Proud to Announce the 30|UNDER|30 Class of 2016
Congrats to One of Our Own Matt McClain, Event Services Manager, Broadmoor World Arena & Pikes Peak Center
View All News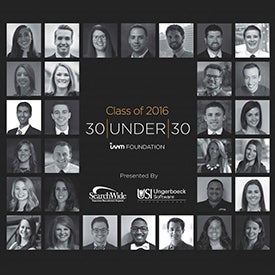 The IAVM Foundation is Proud to Announce the 30|UNDER|30 Class of 2016
The International Association of Venue Managers Foundation (IAVMF) has selected the 2016 recipients for its 30|UNDER|30 program. This program is made possible thanks to co-founding program partners SearchWide and Ungerboeck Software Systems, along with IAVM Foundation donors.
As part of the Build an Amazing Future campaign focused on students, young professionals, and mid-level venue management, the 30|UNDER|30 program is designed to engage the best and brightest young professionals in the venue management industry by recognizing emerging leaders – and their talents – which help accelerate the industry and carry it into the future.
"IAVM and the IAVM Foundation continues to build an amazing future for young professionals in the venue management industry and the 30|UNDER|30 program continues to help lead those efforts," said Mark Gnatovic, senior vice president of SearchWide and a Foundation Trustee. "The program selection process is not easy and each candidate has to be nominated and then submit a video application that is reviewed and scored by select industry leaders and Trustees. Those that earn the right to be recognized, truly earn the right. It's inspiring and gratifying to see how creative and passionate these young professionals are. It will be fascinating to watch them as they develop into the future leaders of our industry."
In its second year, this program focuses on identifying and developing the top talent in the venue management industry, 30 years of age and under, through increased access and exposure to industry networking and thought leadership. The 30|UNDER|30 Class of 2016 will convene for the first time at VenueConnect, IAVM's annual conference and trade show, July 23-26, in Minneapolis, Minnesota. They will also be provided opportunities for continued education for professional growth in the venue industry to help them become better, more productive employees.
Award recipients will receive full complimentary registration to VenueConnect, an $850 travel stipend and a one-year complimentary Young Professional IAVM Membership. In addition to over $2,000 in benefits, the 30|UNDER|30 recipients will be recognized at the Venue Industry Awards Luncheon at VenueConnect on Monday, July 25.
"On behalf of the IAVM Foundation's Board of Trustees and committed donors, we are honored to announce the 30|UNDER|30 class of 2016," said Mark Duryea, vice president of North American Routing & Tours for Feld Entertainment and the Foundation Chair. "We ARE building amazing futures for some of the top rising stars in the industry!"
Meet the IAVM Foundation's 30|UNDER|30 class of 2016:
Priscilla Almeida, Director of Event Services, Rose Quarter/Rip City Management, LLC
David Bennett, Event & Facility Operations Manager, KSU Sports + Entertainment Park and Fifth Third Bank Stadium at Kennesaw State University
Brooke Bockelman, Booking Manager, Jerome Schottenstein Center at Ohio State University
Ben Bosse, Director of Event Services, Nashville Predators/Bridgestone Arena
Nick Byer, Director of Events, Donald L. Tucker Civic Center at Florida State University/Spectra by Comcast-Spectacor
Meghan Doyle, Director of Marketing, BOK Center/SMG
Maggie Gendernalik, Marketing & Box Office Manager, KSU Sports + Entertainment Park and Fifth Third Bank Stadium at Kennesaw State University
Imran Gill, Marketing & Communications Manager, Shaw Conference Centre
Daniel Hare, Front of House Manager, Kings Theatre
Emily Herr, Event Services Coordinator, Buffalo Bills/Ralph Wilson Stadium
Michael Hilburn, Senior Manager, Ballpark Event Operations, Seattle Mariners/Safeco Field
Aaron Hurt, Director of Operations, Butler Arts Center at Butler University
Carly Johnston, Director of Marketing & Sales, Pensacola Bay Center/SMG
Tara Krause, Food & Beverage Manager, Swiftel Center/VenuWorks
Kristina Lankow, Sales & Marketing Manager, Swiftel Center/VenuWorks
Todd Liermann, Manager of Complex Show Operations, The National Western Complex
Max Long, Patron Services Manager, Denver Performing Arts Complex
Corey Margolis, Assistant General Manager, Budweiser Gardens/Spectra by Comcast-Spectacor
Matt McClain, Event Services Manager, Broadmoor World Arena & Pikes Peak Center
Sarah Minnick, Senior Event Services Coordinator, Alamodome
Christine Pileckas, Director of Sales & Marketing, INTRUST Bank Arena/SMG
Rick Powell, Operations Manager, Atlantic City Boardwalk Hall/Spectra by Comcast-Spectacor
Jenna Ricupero, Director of Catering Sales, Huntington Convention Center of Cleveland and Global Center for Health Innovation/Levy Restaurants
Micheal Robinson II, Event Coordinator, Curtis Culwell Center
Mike Santa, CVP, General Manager, Indiana University Auditorium
Brian Smith, Special Events Manager, BOK Center/SMG
Allie Thomas, Event Services Coordinator, Cox Business Center/SMG
Sara Waltemire, Event Services Manager, Meydenbauer Center
Hayley Ward, Front of House Manager, AT&T Performing Arts Center
Michelle Witkins, Account Executive, The Baltimore Convention Center
About IAVM Foundation
The IAVM Foundation is a 501 (c) 3 non-profit organization established in 1982. Through donations and grants, the IAVM Foundation has invested more than $4 million in the development and delivery of professional education, research, advocacy, scholarships, internships and professional resources to ensure the safety and advancement of the public assembly venue industry.
About IAVM
Representing public assembly venues from around the globe, IAVM's 5,400 active members include managers and senior executives from auditoriums, arenas, convention centers, exhibit halls, stadiums, performing arts centers, university complexes, racetracks, and amphitheaters. IAVM's mission is to educate, advocate for, and inspire public assembly venue professionals worldwide. More information about IAVM is available at www.IAVM.org or via @IAVMWHQ on Twitter.