Yoga and Craft Beer Event
On Thursday, June 18, the BWA Amphitheater, which is located on the south side of the venue between it and the World Arena Ice Hall, will feature the yoga and beer event. Starting at 6 p.m., instructors from Yoga Studio Satya will teach an hour-long outdoor class on the lawn. Each person will have 80 square feet of space, which allows the amphitheater to comfortably accommodate up to 150 individuals. Attendees will be allowed to enter the area starting at 5 p.m. Fans are encouraged to bring their mats and come dressed for class.
Tickets must be purchased in advance and will be available online at BroadmoorWorldArena.com for $25, starting Friday, June 5 at 10 a.m. They will include a drink ticket for a craft beer of your choice from either Goat Patch Brewing Company, New Belgium Brewing Company or Bristol Brewing Company. Soft drinks and water will also be available.
See the map below for more information: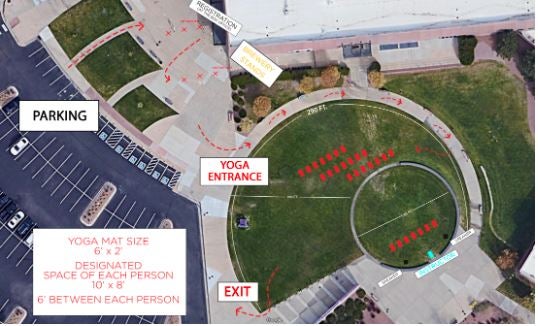 ASSUMPTION OF RISK: The Venue operates and maintains its premises to protect against the exposure of COVID-19 virus or any other communicable disease in accordance with federal and state guidelines. As noted by government health officials, complete isolation from the virus is impossible. Accordingly, the Venue cannot and does not promise to eliminate the risk of exposure to COVID-19 or any other communicable disease and cannot and does not promise that the Ticket Holder will not contract COVID-19 or any other communicable disease. The Ticket Holder acknowledges that the Venue has informed him/her that the Venue is not risk-free, that it is possible that the Ticket Holder may contract COVID-19 or any other communicable disease during his/her presence at the Venue, and that Ticket holder freely chooses to enter and/or reside in the Venue with awareness of the associated risks.
Read More
Performance Schedule

Thursday, June 18, 2020

at 6:00 PM

CAL